For the last several years I've done plenty of financial services copywriting, from Social Security-focused fiduciary services to life insurance and annuities, and all the way back to private equity.
And there's something you should know. 
For someone who actively rallies against hyperbole for hyperbole's sake, the headline I wrote for this blog post seems a bit in your face. 
Let me explain…
My Absolute Favorite Financial Copywriting Strategy Is "Fraud Watching"
The campaigns I love working on the most are referral postcards. 
If you follow my Relational Referral Model, you know why: because the goal is to have your clients rave about you while they're out at the bar, on the golf course, or even at Shabbat dinner with the family.
It also plays to my strengths of coming up with great hooks. 
One neat trick I use that can be applied to all sorts of content, like newsletters, emails, and social media posts (if your, erm, target market is consuming content on social media…) is to check out AARP's website for ideas.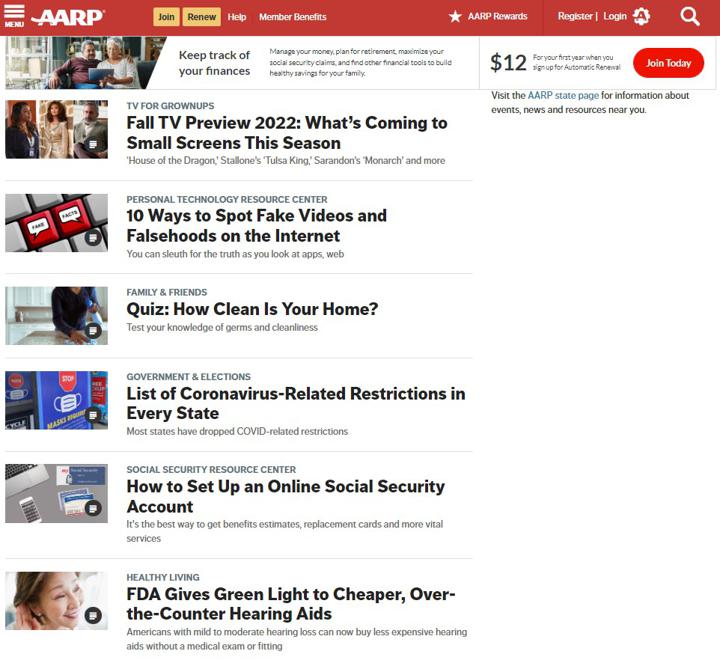 The most successful financial firms I've worked for are those that cater to older people, and many to retirees specifically. 
AARP gives me a good pulse on the concerns of that market.
(And if the target audience is more conservative, I'll head on over to a different part of the internet.)
Here's an example of a postcard based on research AARP was reporting on: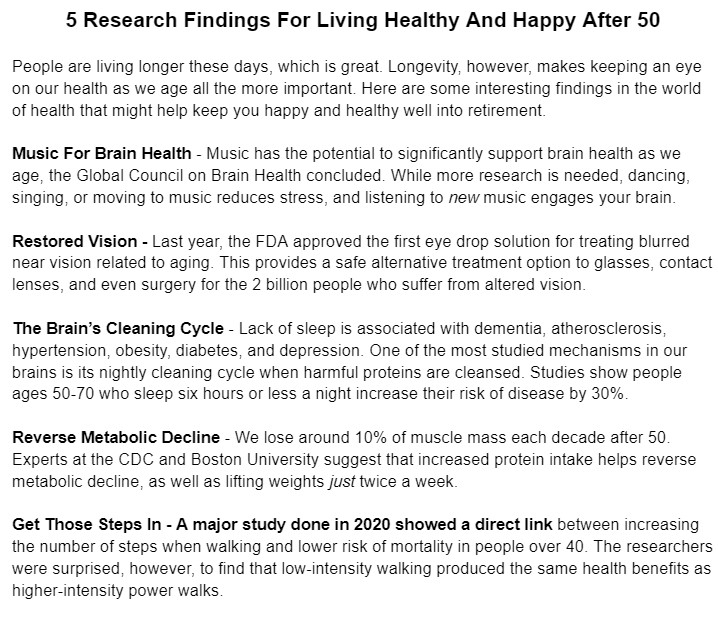 However…
Fraud watching is a way for you to make sure your copy gets read, while also helping your reader out and keeping them safe.
Check it out, AARP has an entire section dedicated to scams and frauds to watch out for:
This is good because unfortunately, the elderly are prime targets for scammers. 
But a huge resource like this helps keep them aware, and you can use it to pump out marketing content, including my favorite: referral postcards.
Plus it's really helpful for this age demographic to be educated about scams. And the information transcends our common differences; a conservative audience needs to be just as aware as a liberal one.
FINANCIAL SERVICES COPYWRITING STRATEGY #1: The Swindler's Narrative
So the first way to do this is to look around for the juiciest story. And there are plenty. 
Now I don't usually advocate writing something that'll trigger the reader's "Yeah, right" instinct by being unbelievable. 
But the more unbelievable the better for this strategy, because the "Yeah, right" instinct actually works in our favor. 
When your reader sees a story like:
Couple Loses Entire $10M Retirement To Winnie The Pooh Impersonator
They're thinking, "Yeah, right—I have to check this out."
After you deliver on the story, educate them a bit on how to stay safe. 
Then they're much more attentive when you ask them to take action.
Here's an example from a postcard I wrote a while back:
This Woman Lost Her Entire Retirement Savings In Nine Months To A Lottery Scam
Imagine this… you live way out in the suburbs with your partner in your dream retirement home. But one day, you get a call that could change your life. 
You've won the lottery!
Millions of dollars are on the way to you, along with a new luxury car. All you've gotta do is pay the taxes on it, and the… lawyers' fees…?
This happened to a woman in Texas, who lost everything she had in nine months to a scammer who charged her for different fees.
Now I bring this up for two reasons:
One, be careful! In the last few years there have been a half-million complaints in North America about lottery scams (and if you think you've been a victim of a scam, or would like to report fraud, call The Fraud Watch Network Helpline at 877-908-3360).
Two, scams like this work because of how uneducated people are about their finances. 
FINANCIAL SERVICES COPYWRITING STRATEGY #2: Fraud Protection List
Another way to do this is to provide a list of the most popular schemes the scammers have been using. 
They change all the time, and as a general rule, I only send these once a year to each person, to make sure the advice is timely. 
You could get away with one at the beginning of the year, and another towards the end, but don't overuse the strategy. 
The Fraud Protection List is simple: either open with a story snapshot like the last strategy, then quickly move into your list of other scams to be aware of. Or just be direct and get to the point. 
Here's an example:
Stay Safe: 5 Government Impostor Scams To Watch Out For
There are plenty of stories about retirees who've had their savings wiped out by scams. The AARP Fraud Watch Network reported seeing a surge of scams involving individuals calling from government agencies. Here are the top five they've suggested you be on the lookout for:
1. FBI Consumer Affairs - A 79-year-old Pembroke Pines, Florida man sent a fake FBI agent $100,000 after being told he had won a $1.9 million sweepstakes.The scammer said he was with the "Consumer Affairs" branch and that the prize money was being held until the man paid fees and taxes. His money was never recovered. 
2. Student Loan Cancellation - In this scam, someone claims to be with the agency handling the student loan forgiveness program that President Biden signed into law. All they need is your Social Security number and banking information, and the grandkids can live debt-free.
3. Social Security Emergency - If a federal agent calls and says that your Social Security number has been stolen and involved in a crime, don't be caught off guard by their urgent tone. The scammer will then say your SSI and bank accounts are compromised, and all you need to do to secure them is pay a fee. 
4. Facebook Messenger Grift - If you get a message from a friend on Facebook saying you've received a large amount of money, or have the opportunity to do so, block them immediately. You should also let your friend know that their account has been hacked by a scammer.
5. Medicare Scam - This scam involves someone claiming to be a Medicare official. Usually, they'll want to send you a new plastic card to protect you from the spread of COVID-19. All they need is to confirm your Medicare number.
BONUS FINANCIAL COPYWRITING STRATEGY: Holiday Happiness Guide
Everyone usually sends the same messages around the holidays: new beginnings, the spirit of giving, holiday discounts, blah blah blah. 
And let's not even get into those that just send a generic happy holidays message, cross their fingers, and hope someone will read it.
Don't try to stand out by being the loudest, or having the best sale; stand out by being helpful. 
How?
Last-minute gift ideas for every age group. 
You'd be surprised how many people need them, and they can even tack the card onto the fridge to use for other celebrations like birthdays.
All you have to do is pull a list from the most reputable sources. I like to use GQ, Vanity Fair, and Buzzfeed since I trust their curation.
Here's an example:
Last-Minute Gift Ideas For Each Generation
Let's be honest: shopping during the holidays can be stressful. So if you've been putting off those last-minute gifts, we wanted to share some great ideas for each generation in your family.
Gift Ideas For The Grandkids
● Wireless Charging Station ($29 on Amazon) ● Virtual Reality Headset ($400 at Target) ● Polaroid Instant Camera ($89 on Amazon) ● Portable Phone Charger ($22 on Amazon)  ● AirBnB Gift Card  
Gift Ideas For The Kids: 
● Fitness Tracker ($119 on Amazon) ● Custom Postcard Set ($60 on moo.com) ● Sonos Wireless Speaker ($180 at Best Buy) ● Apple Watch ($239 on Amazon)  ● Samsonite Suitcase ($200 on Amazon)  
Gift Ideas For The Husbands 
● Meat Thermometer ($129 on Amazon) ● Crossword Puzzle Collection ($20 on Amazon) ● Golf Swing Analyzer ($139 on Amazon) ● Roomba ($275 on Amazon)  ● Nike Sport Golf Bag ($180 at Nike)  
Gift Ideas For The Wives
● KitchenAid Mixer ($380 at Target) ● Theragun Mini Massager ($199 on Amazon) ● Wireless Charging Tray ($100 on Amazon) ● Crystal Cake Stand ($100 at Macy's)  ● Wool Knit Blanket ($150 at West Elm)  
Why These Financial Copywriting Strategies Work
If you know your market well enough, "providing value" doesn't just look like the "X Ways To Secure Your Social Security" or "Why Your Friend Keeps Talking About His Life Insurance Plan."
Those angles do work—to a point.
But let me ask you this: 
Have you ever asked someone for a doctor's referral? Or how about a dentist's?
Or maybe you saw a friend ask for one on Facebook.
What happened?
Usually, people are chomping at the bit to refer you to the most incredible health professional.
And is it because their dentist sent them an email with the 15 ways to prevent plaque buildup?
Probably not.
These strategies work because you're not sending the email that gets forgotten after a quick glance (if even); you're not sending the postcard that goes straight into the wastebasket.
You're tacked up onto the refrigerator, or you're sitting in the car's center console. 
Or you're taped next to the phone so people know what scams to look out for when they answer an unknown caller.
You're a welcome guest in someone's home.
The Best Referral Marketing Strategy For Financial Advisors (IMHO)
"The man had brain cancer, can you believe it?" Tim Polk said. His drive didn't clear the fairway, but he didn't care: he was wrapped up in the story he was telling. "I mean, those crooks scammed a guy with brain cancer out of two hundred thousand."
"Yeah, I don't trust any of those websites," Jerry said. He and Rob were Tim's buddies, and they followed him down towards the green. 
"You just gotta know what to look out for," Tim replied before launching into another story about a luxury car scam that ended up being linked to a Russian crime ring.
"You sure do know a lot about these scams," Rob said, lifting his soggy old Nike cap. "Better watch your wallet, Jer."
"You're an idiot," Tim said. "You oughta be taken notes. I only know about these things because my advisor keeps me updated on the latest schemes every year. They switch up almost every few months."
Jerry's face washed over with concern. "Advisor? Like, financial?" Tim nodded. "I need to figure all that out, man," Jerry continued. "My cousin's wife went unexpectedly last year. Terrible tragedy. Whole thing wiped them out, though. Something about estate taxes? Who's this advisor you're talking about, I might wanna talk to them about a few things…"
The story above illustrates a lesson I learned very early on in my marketing career: yes, sometimes people will refer you based on financial incentives, or gimmicky discounts, but do you know why people really want to refer their advisors? 
Because of how it makes them look, and how it makes them feel. 
It's not a pure ego play, although that can certainly be part of the equation. It mostly comes down to the feeling we get when we're doing something nice for someone else.  
Tim from the story above gets to share his knowledge on the golf course, but also knows that when he sends his friend Jerry to his advisor, he's sending him to the right place. 
With the strategies outlined for you here, you'll be a welcome guest. 
Instead of a piece of paper in the trash. 
But knowing how to interject yourself into the conversations people are having with their friends and family is where the real magic happens. 
The secret?
It's all in the Call To Action: how you ask for the referral determines the success of your strategy.
And I'm going to share an example with you in a moment, but it's part of the Relational Referral Model, and you can get an entire year's worth of referral marketing strategy topics, along with my postcard template here.
Financial Services Referral Example: How To Ask For A Referral 
Here's how I pivot into asking for the referral at the end of each postcard. The trick is to attach yourself to an actual moment in their lives where someone might ask them for a referral using regular 'ol non-jargon-y language, and give them the real reason they'll refer you (which is to make themselves feel good about doing so).
That's why if you hear any of those stressed out people on the golf course or at dinner say they've been putting off getting their finances sorted out, tell them to give me a quick call at 555-555-5555, and let me know!
You just might be giving them the gift of freedom from the stress of the season, so they can get back to what's most important in their lives.
When you approach your referral strategy from this angle, you're building relational equity that compounds by inserting yourself into the interactions your clients are having.
If you want a whole year's worth of value-driven postcard topics, with the template to match, so you can not only generate referrals, but stand out among all the other financial services providers in your market, get my Relational Referral Model here.
It works by methodically inserting yourself into the conversations people are having in their day-to-day lives, so you can be the person clients rave about at holiday parties, their country clubs, or anywhere else. 
And they'll happily do it for free.
---