Introduction & Overview
What is a Vivid Vision?
A Vivid Vision is a document outlining how each part of your organization functions 3-5 years into the future as if it were the present-day reality.
It's a leadership tool used to communicate the grand vision you have for your company, developed by Cameron Herold, who wrote the book Vivid Vision: A Remarkable Tool For Aligning Your Business Around a Shared Vision Of The Future, ultimately turning his Vivid Vision process into a mainstream phenomenon.
A professionally designed Vivid Vision provides a tangible roadmap for leaders to follow and is used to inspire and recruit the people needed to co-create the future, with a clear picture for everyone to push towards.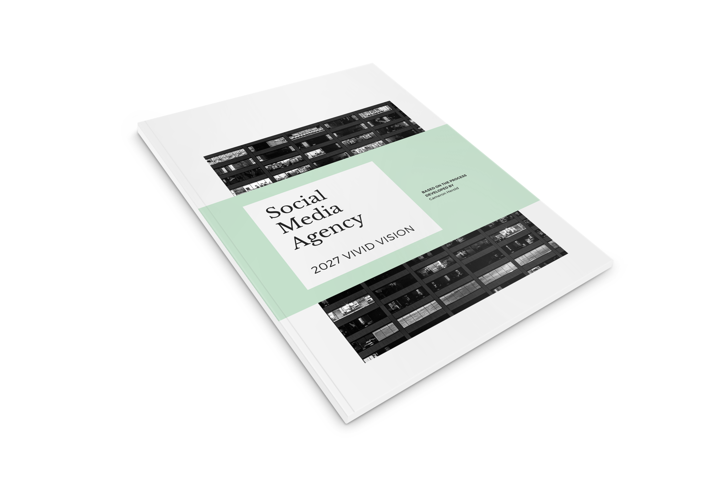 How To Write and Create A Vivid Vision
To write and create a Vivid Vision you have to:
Visualize every aspect of how you want your life and/or business to run in 3-5 years as if it's already been accomplished

Write everything down in the present tense

Edit the result into a clear and concise summary of your future illustrating what you achieve in life and/or business in just a few years' time.
This guide shows you how to write a Vivid Vision using a simple template, with personal Vivid Vision examples and business Vivid Vision examples that you can use as inspiration.
DISCLAIMER:
I worked under contract for VisionDriven, formerly Conscious Copy & Co., between the years 2017-2023. I created dozens of Vivid Visions for companies during my time there, and this post is not affiliated with their exceptional work, or that of Cameron Herold. I am simply sharing simplified tips that serve as support to their already highly refined Vivid Vision Process (which you can discover here).
---
Communicating Company Vision To Employees And Stakeholders: The #1 Trait Google Uses To Predict The Success Or Failure Of Its Leadership
Would you follow the captain of a ship out to sea without a map?
Today it wouldn't matter much: you could just take out your phone and navigate using GPS.
But that's not the point. 
Leaders of any kind need to know where they're going. And more importantly, they need to be able to show others they know where they're going. 
Especially if they want a team, audience, partner, collaborator, or market to follow.
Communicating the vision of a desired outcome is a sign of a confident leader.
And Google's Management STUDY proves it:
Google's manager research

 found that setting a vision is an important behavior of high-scoring managers. A clear team vision is helpful for a number of reasons, in particular:
It's crucial to the success of a team.

 One highly-rated manager at Google explained that "having a compelling, shared vision is crucial to the success of your team, as it allows all of you to stay focused and move forward in the same direction. Conversely, not having a vision can dramatically hurt your team through lack of focus and a commensurate lack of momentum."
Team members need to know where they're going.

 A clear vision means that everyone on the team knows where they're going, if they're on track, and what success looks like.
It helps teams decide what to work on.

 A clear vision helps teams make trade-offs and prioritize. Managers should tie back to the vision when communicating decisions.
In fact, all of their top-rated managers had one leadership capability in common: the ability to design a clear vision of success.
Which shouldn't be much of a surprise. Who wants to follow someone who doesn't know where they're headed?
The Vivid Vision Book: A Unique Leadership Tool Used By Hundreds Of The World's Most Successful Companies
The idea of vision isn't new, it's just outdated. 
The years of boring vision statements lacking any sort of inspiration are done. 
So are cheesy vision boards with magazine cutouts of the lackluster rewards companies use to try and excite their employees (although vision boards elicit much more emotional stimulus than a one-sentence vision statement).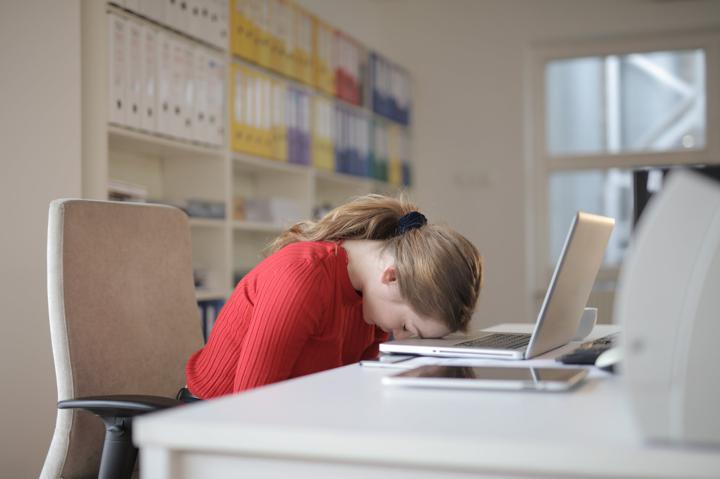 In 2018, Cameron Herold released his book Vivid Vision: A Remarkable Tool For Aligning Your Business Around a Shared Vision of the Future. The book offers insight into the unique process Cameron says helped him turn 1-800-GOT-JUNK into a $100M+ company after it hit a plateau at $2M for several years.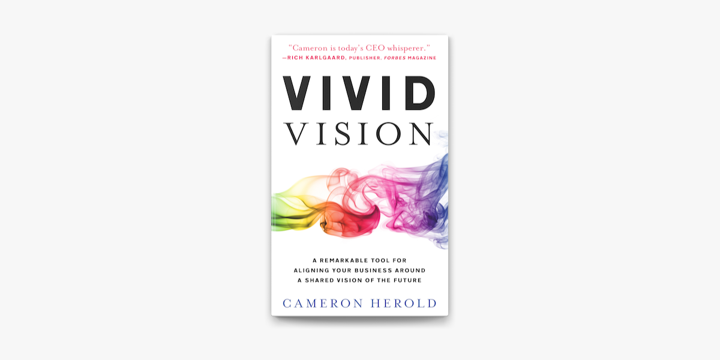 One of the main purposes of the Vivid Vision, Cameron writes:
"...is to create alignment on your team. At the end of the three years, you should consider how well-aligned your team became. How engaged were they? Are people more clear on their duties and responsibilities than they were before you released the Vivid Vision? How much harmony was created inside the office when projects were being planned and picked out?"
Cameron Herold's Vivid Vision Example
Cameron's book provides tons of examples showcasing how to use the Vivid Vision process in your life and business. 
Including one of the very first Vivid Vision iterations. From the book:
"People keep telling me that I look so relaxed. I feel really lucky to be doing what I'm doing. My days are fun-filled and relaxing, and my time is my own. I'm excited to help entrepreneurs in every interaction I have with them. I feel appreciated by others that I work with. I comfortably accept the praise people give me, and I let it sink in. I know I make a serious difference to the success of each of my clients. I feel confident in working with companies ready to go public so I can share in their upside. I always have and continue to view life through a pair of rose-colored glasses. I'm exactly where I'm supposed to be."
Cameron uses this example to highlight the importance of bringing the future into the present through emotion, even illustrating how he reacts to other people praising him for his accomplishments, and detailing the work he gets to do.
VIVID VISION: The History & Evolution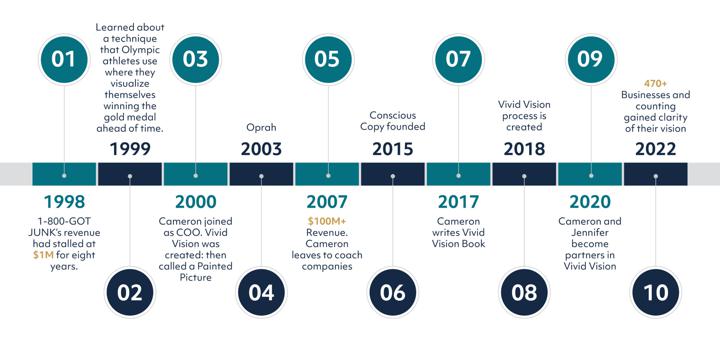 In 2017 I joined the copywriting agency Conscious Copy & Co., where I quickly became one of their head copywriters, working on some of their biggest campaigns for some of their biggest clients. In a short span of a few years, the team and I were responsible for helping 400+ businesses and CEOs to create their own Vivid Vision.
And their Vivid Vision Process is the wagyu steak of vision services, and I highly recommend checking them out if you're ready to fork over the dough for a Vivid Vision—it's well worth it.

A Simplified Vivid Vision Template
The template and process I'll share with you today are different. It's nowhere near as thorough as if you booked a Visioneering session with one of VisionDriven's experts. 
Rather, it's my own simplified take on the process after writing dozens of Vivid Vision documents. 
And seeing firsthand...
What Leadership Gets Wrong About Vision
I've found that without a reliable professional to help guide them through refining their vision, some people get lost. 
Business leaders are executors. When attempting something new they need to know what quick and decisive actions will help them to achieve their desired result while maintaining their momentum and drive to continue pushing ahead. 
If they can't do something, they'll hire someone who can. It's all about movement.
But that's the problem: you can't hire someone to crawl inside your brain and extract your vision--it's YOUR vision, it needs to come from you.
So, some bang their heads against the wall, sometimes abandoning their Vivid Vision altogether. Whatever they must do to keep moving.
Your energy, and ability to direct its movement quickly, are what make you a great leader; but the execution is nothing without alignment and clarity.
This is why you need a Vivid Vision in the first place, and why you need to channel your energy onto what I call "Enhanced Vision Focus Points"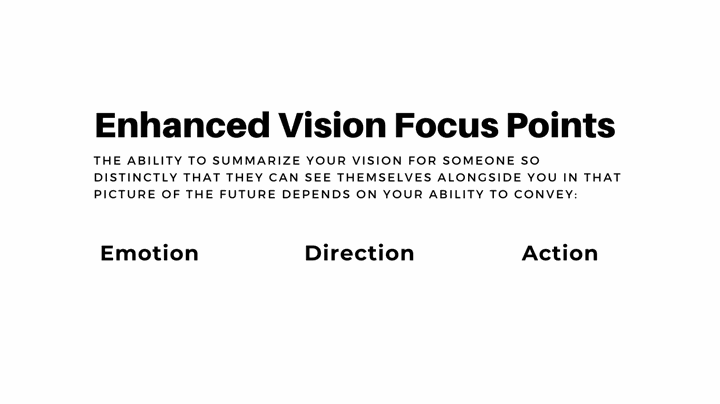 The ability to summarize your vision for someone so distinctly that they can see themselves alongside you in that picture of the future depends on your ability to convey emotion, direction, and action.
To design realistic moments of your life that feel as if they've already been lived, you must be able to describe the emotions you felt, the actions you took based on those emotions, and where that action was directed. 
For example, in three years if you want to buy a house for your family in Lake Tahoe, how would you feel having done it already? How would you then direct your actions?
Perhaps you might say:
It's almost unbelievable to me that we bought our dream vacation home in Tahoe. I still pinch myself when I think about it, but last month I decided against that pinch. I took the fam on a lastminute road trip up to the lake for a much needed weekend away. And you know what? I didn't even have to take work with me. I was completely unplugged and present with the kids, thanks to the team and systems in place back in the office.
These are the words of someone who embodies the future moment: knows how it feels, operates as their future self, and takes action like someone who's already accomplished their goals.
To create your vision quickly, you'll use the Focus Points to guide you through each part of your vision, making sure to write down the emotions you feel and how they direct your actions.
Personal Vivid Vision Example: Relationships
For example, in a personal Vivid Vision, there is usually a relationship section, where we can use the Focus Points to bring this part of the future to life:
I feel like I won the lottery. When I wake up in the morning next to my husband, I sometimes stare in awe. I'm so glad it's him. For so long I wondered whether it would happen for me. This love thing. Now my life is so full of love I don't know what to do with all of it. Well, I do know: I shower my partner with gratitude each day, in small ways like remembering to organize his underwear by occassion (lounging around the house briefs at the front, Calvin Kleins at the rear). And in other ways, like flying in his grandfather for a surprise birthday visit.
The future emotions drive the actions this person chooses to take. 
Vivid Vision Example: Company Culture
Let's take a look at the culture section of a Vivid Vision for an IT company, and how the Focus Points guide us:
The culture we've built at SATA feels just like a video game conference. We're nerds, we're proud of it, and we love each other that much more because of that fact. Every department fires on all pistons throughout the day, because each one of us feels supported by the hive. Busy bodies pace down the halls, with limited small talk during high productivity hours. We'll save the small take for later (when we run game nights on Wednesdays). This get sh*t done now so we can have more fun later attitude has allowed us to provide better service for our clients, grow the company faster than we ever imagined, and to be a lean, mean, efficient, technology machine that runs like a brand new laptop right outta the box. 
The culture of this company inspires the team on an emotional level to take actions that make them more efficient as a whole. 
Your Vivid Vision Template: Focus & Accelerate
Using this approach to design your vision is simple: just use the Focus Points for each section you want to include. 
A Personal Vivid Vision should include any sections of your life you deem important but can include: career, relationships, hobbies, and more.
A Vivid Vision for a business should include the parts necessary for that business to function and can include: culture, team, operations, headquarters, marketing, operations, and more.
So, for example, let's say your personal Vivid Vision will include the following sections:
A Snapshot

Your Friends & Family

Business & Philanthropy

Fun & Travel

Purpose & Fulfillment
You should create a Vivid Vision template and outline for yourself highlighting the Focus Points for each section like this: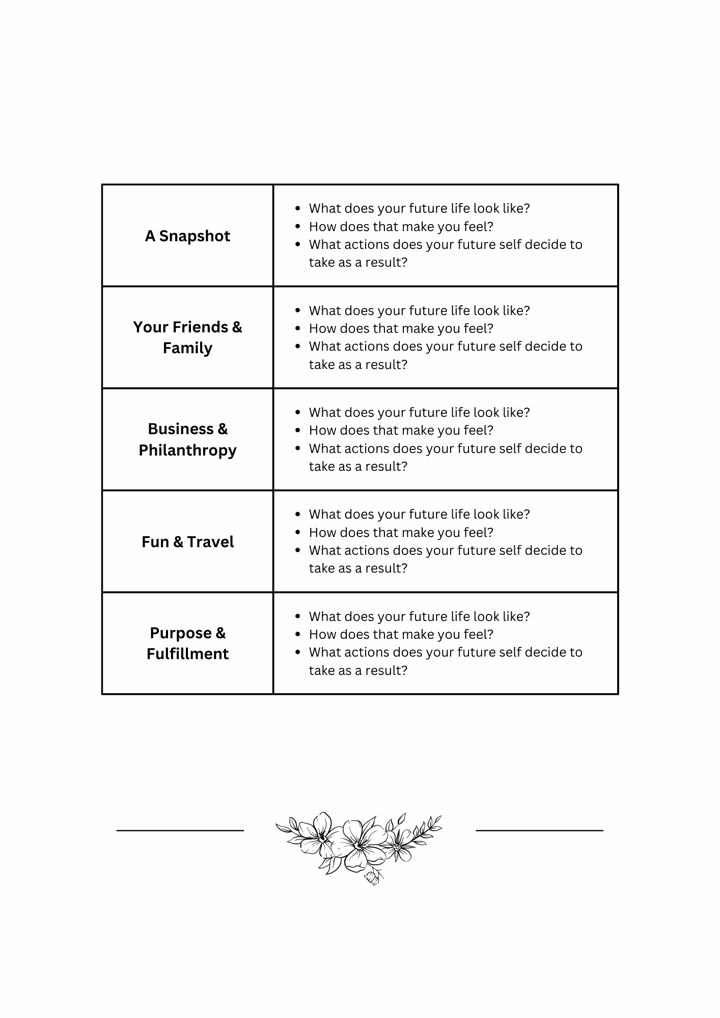 A vision beginning to form will look like this: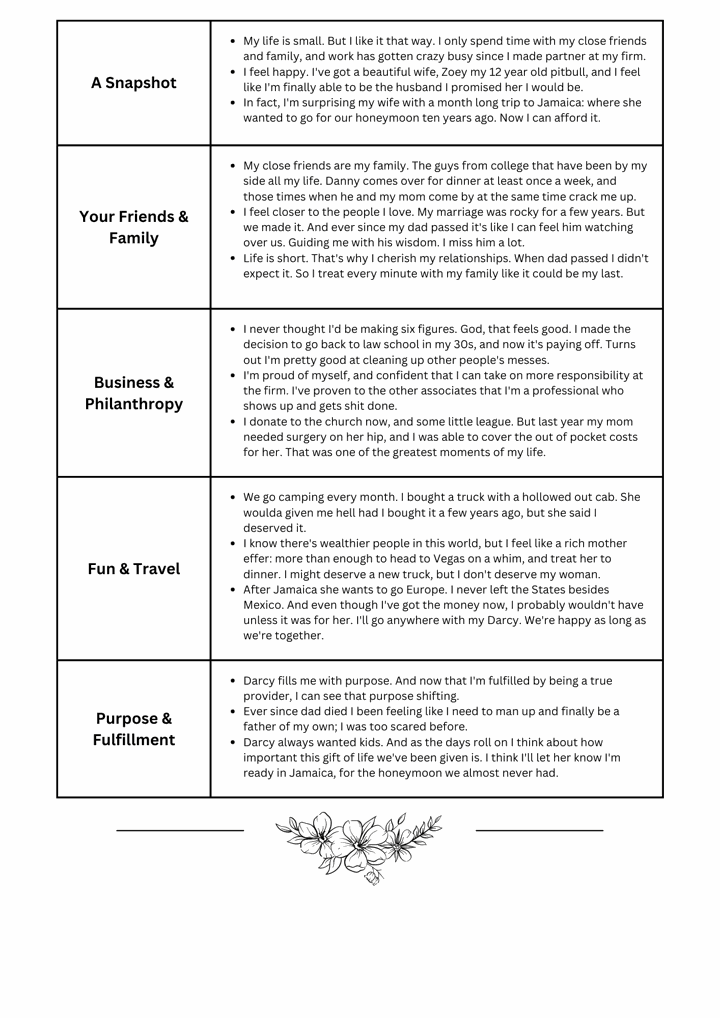 Let's say the vision you want to create for your business will include the following sections:
Current Industry Position

Team

Culture

Product Offerings

Company Sentiment
You should create a Vivid Vision template and outline for yourself highlighting the Focus Points for each section like this: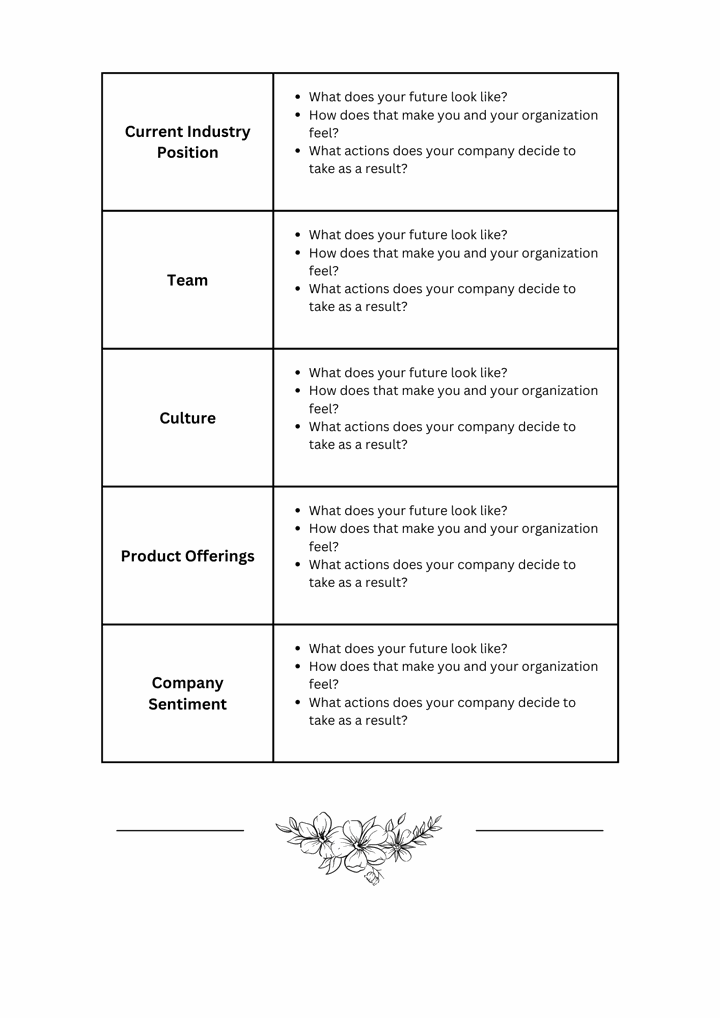 A vision beginning to form will look like this: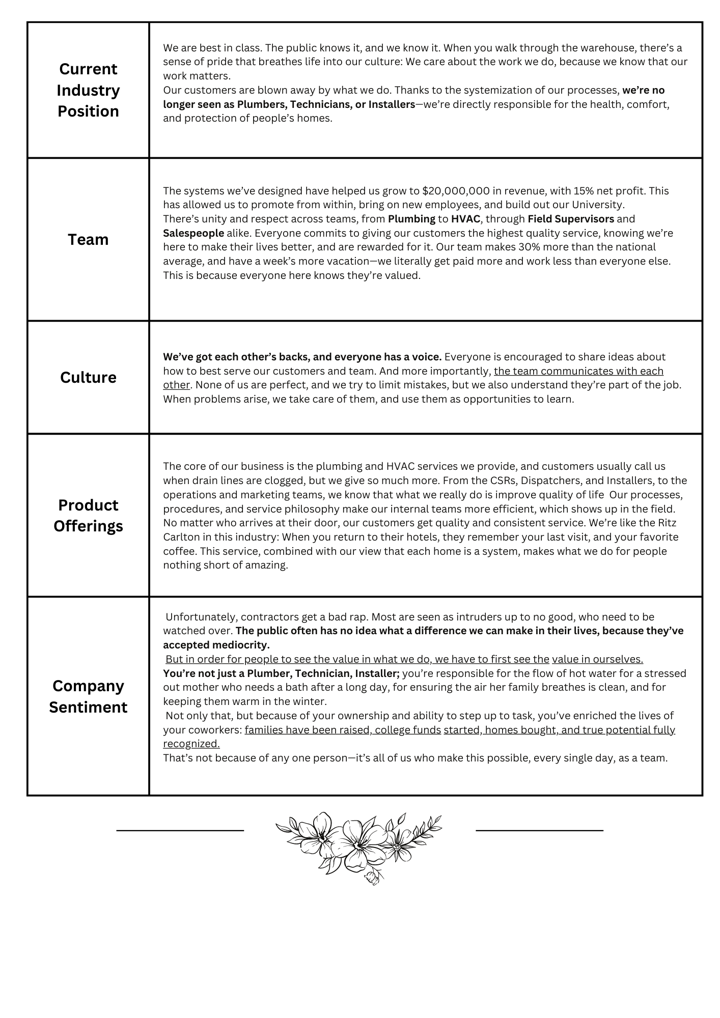 Secrets Professional Writers Don't Want You To Know About
At this point, you have just about everything you need to design a vision for yourself or your company, and in such a way that the emotions are clear, and the actions your future self takes are almost real. 
This is called storytelling.
Most people aren't naturally good at writing. So, instead of telling them they have to learn the basics of storytelling to write their vision down, I show them indirectly. 
What brings images, visuals, scenes, portraits, memories, and all other moments of human experience into the realm of concrete reality is action directed by emotion.
That's why a clear vision is built by focusing on how the future makes you feel, and how you operate as a result.
Professional writers also know how to capture the emotion an individual or a collective might feel through language. 
This is where hiring a pro to help you would be beneficial. 
But it is by no means necessary. 
If you'd like the premium boutique Vivid Vision experience, someone who'll take the thoughts in your head and turn them into a clear and compelling vision, talk to the team at VisionDriven. 
They are the leading experts when it comes to creating a Vivid Vision for your business and life. 
For those who are confident in their ability to do it themselves, I wish you good luck. And I would like to share these additional tips with you.
Additional Tips You Can Use To Write A Vivid Vision
Give Yourself Room
Take time to focus on visualizing your future. Cameron Herold suggests you spend time in nature.
If you can't see yourself doing that, then simply block off a couple of hours on your calendar. Use that time to envision the emotional details of your vision.
It's your future we're talking about here; give your mind the canvas space it needs to create one worth talking about.
Respect The Process
Vision processes can be fun, but they can also be frustrating.
If you're stuck at any point, remember that obstacles are part of the process; there are always a few bumps in the road along your vision journey.
Respect the process, and surrender to the route you've chosen.
When you arrive at your destination with a fully visualized plan for your future, you'll be that much more delighted with the end result.
Your First Draft Won't Be Your Last
It's okay not to get it right the first time; good writing is done in drafts.
Use your first as a starting point, and put in the work needed to get as precise with your vision as possible.
It usually takes a professional writer three drafts anyway.
So be easy on yourself.
Include Only The Necessary Details
Actually, be a bit rough on yourself when editing your Vivid Vision.
Too many details dilute the emotional impact of your core moments.
Like someone rambling on through a story, overdoing it will turn people off. Narrow in on only the most important parts of your future story.
Cut out the fluff, repetitive language, unnecessary clarifications, redundancies, and anything else you can erase while still understanding the big picture.
Set A Deadline
An end date ensures you don't fall victim to paralysis.
Don't give up on your future.
Be accountable to a deadline, or even better a team or partner who will be waiting to be inspired by your vision at a reasonably urgent date.
Keep Momentum
Incremental progress is progress nonetheless.
Keep moving during the vision development phase and during the editing phase.
Once finished, get right back to work on not only creating your vision but creating your reality.
Get excited, and thrust yourself forward into the future.
---
More Vivid Vision Examples
Vivid Vision Example #1: Personal, Wealth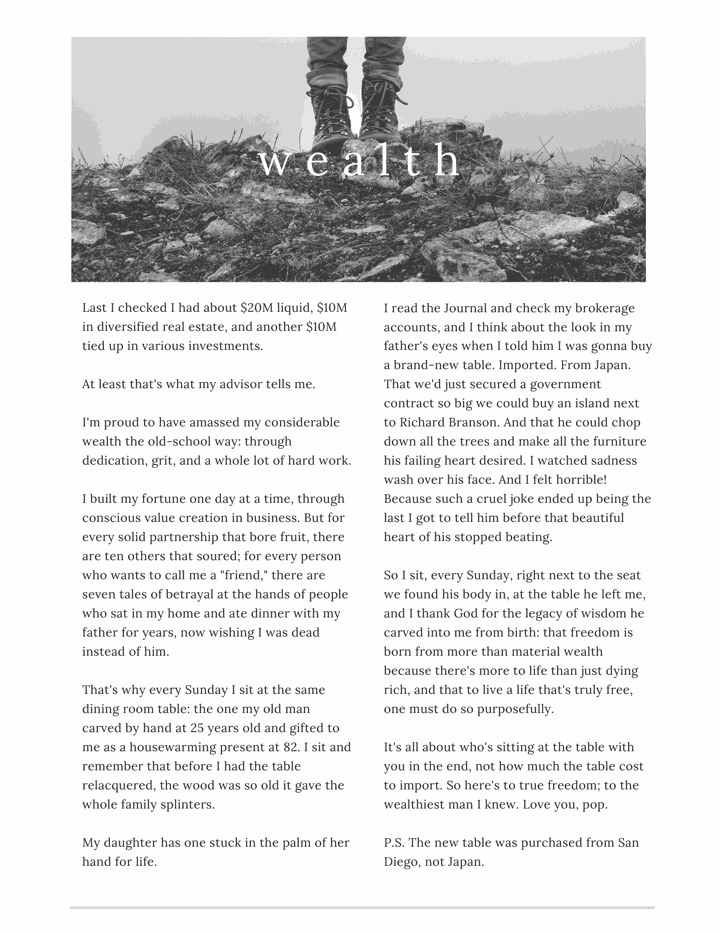 Key Takeaways:
Clear on the amount of money they would like to have. Precise numbers work best. It makes the goal tangible. Even if it seems like a stretch.

Emotion drives the simple actions of the scene, and

The solid reason why behind their desire to not simply be rich, but to live purposefully.
Vivid Vision Example #2: Agency, Team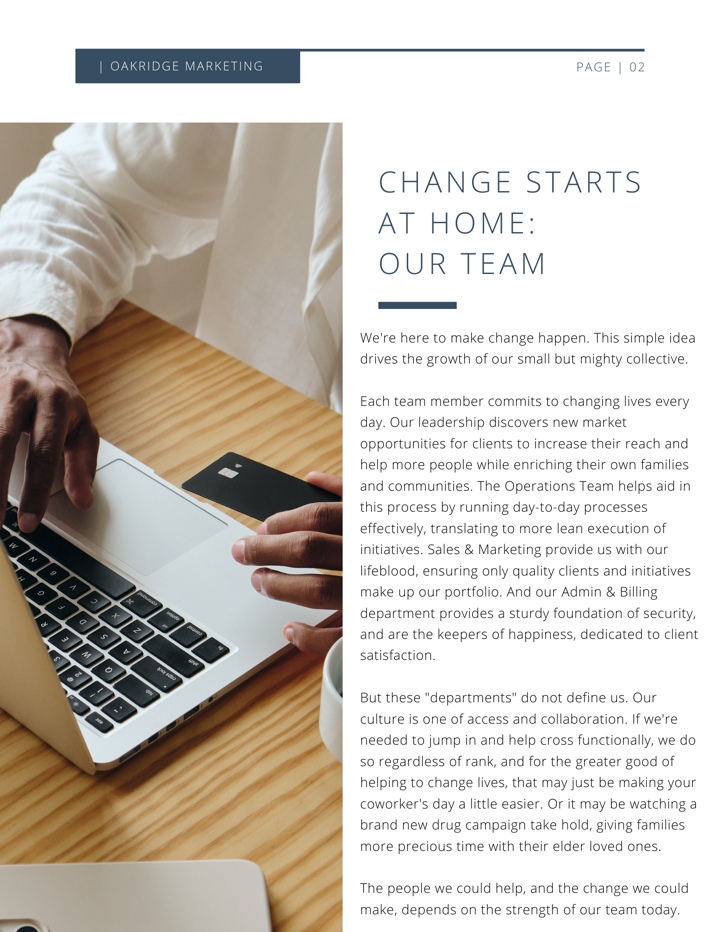 Key Takeaways:
The team understands the company ethos: we're here to make change happen. This drives behaviors, while also attracting only employees who resonate with the mission.

Cross functionality is highlighted prominently, and hierarchies are respected not worshipped.

The team's actions will be influenced by their belief in the culture of change.
Vivid Vision Example #3: Personal, Relationships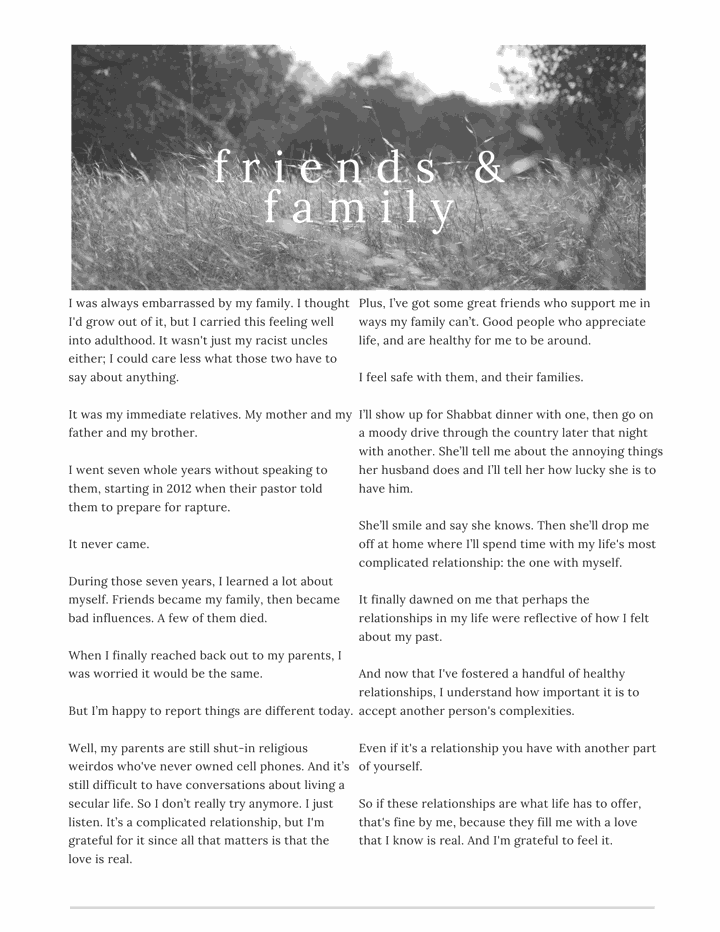 Key Takeaways:
So specific about the way their feelings towards their family members dictated their actions.

Emphasis on how friends make them feel leads to more healthy actions taken on account of those positive feelings.

Simple moments between friends highlight the closeness and intimacy of their relationships.
Vivid Vision Example #4: Medical Equipment, Marketing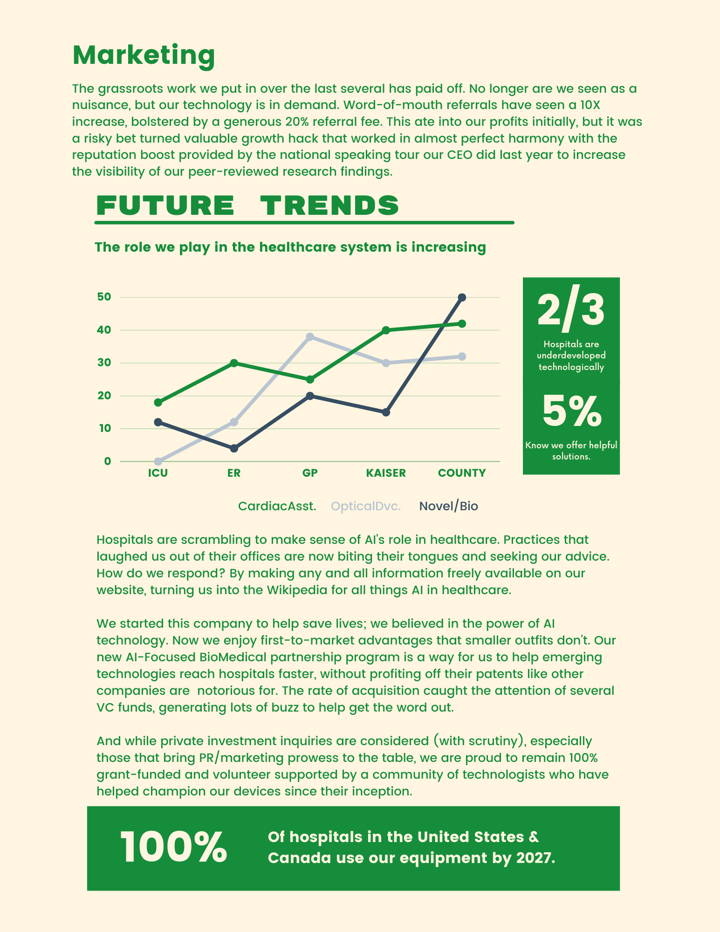 Key Takeaways:
Tangible numbers make the vision feel true to life, and even more challenging in a positive way.

Why they approach their business marketing endeavors the way they do is clear: they

need

to help more people. Emotion drives their actions.

Ending on an iconoclastic high note heightens the emotional impact of their vision, and reinforces their grassroots allegiance to the social good of the technology.
Additional Vivid Vision Resources
Check Out The Team At VisionDriven
Get help from the world's leading Vision experts in creating the most detailed version of your future: https://www.visiondrivenglobal.com/
Vision Study
Why 400+ Businesses Outsourced Their Company's Future & The Frightening Reason 92% Of Them Aren't Aligned With The Goals Of Their Organization: https://michaeldelaguerra.com/leadership-study
Google Leaders
Management and leadership tools from Google, with education on improving people processes, including vision: https://rework.withgoogle.com/guides/
Vivid Vision Examples and Template Download
Download all the examples and templates from this post in one PDF.