The following is a comprehensive breakdown of a four-year study. To see a summary of the insights, click here.
---
Vivid Vision & The Misalignment Crisis: A Simple Explanation Pt.1
We were sitting on a gold mine. 
And when I really thought about how many people had paid us to do this, it was really rather interesting.
Several hundred businesses worked with the agency Conscious Copy & Co. (where I've been a copywriter since 2018) over a four-year period to get help clarifying and communicating the vision they had for their company's future, turning it into what's called a "Vivid Vision."
What Is A Vivid Vision?
A Vivid Vision is a document containing a clear and detailed overview of what your business will look, act, and feel like three years into the future, written as if it's already happened. It was developed by Cameron Herold, the author of the book "Vivid Vision: A Remarkable Tool For Aligning Your Business Around A Shared Vision Of The Future."
To do this, business owners or leadership teams sat for a two-hour interview, in which our team guided them through a series of questions related to how they envisioned different parts of their company in three years. 
Then a copywriter wrote a seven-page document, in the present tense, as if their vision had already come to life. A designer then turned it into a refined internal document—or what one real estate business called "a masterpiece"—that each business could use to showcase the vision they have for the future.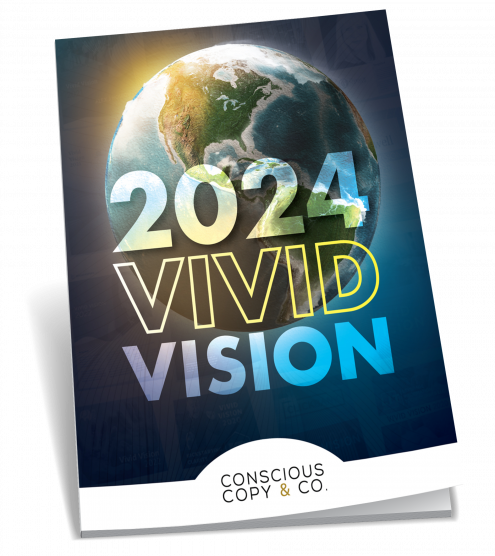 I led this research initiative right around the same time I was breaking up with someone. It was one of those lingering separations, where you both know there's tension but no one says anything. And I was grateful for a new project to take my mind off the fact I was hanging onto a relationship the other person wanted to relinquish.
The goal of the study was to identify trends the company wasn't aware of around what we offered: vision services, for lack of a better term. 
The role "vision" played in the realm of "leadership," I concluded after looking through years of research, was important, but was always tied to studies with broader focuses, like team building or management. "What makes a good [fill in the blank]" almost always started with the ability to define a vision, but that was it.
Then it clicked. 
I had access to four years worth of data on companies who paid for professional help when it came to vision. 
And not to simply define a vision or mission statement: a thorough, time-intensive process that entrepreneurs or company leaders—some of the busiest people, and who are very protective of their calendars—prioritized and sat still for. 
There were several hundred interviews with well-established companies, some household names, with revenue numbers as high as nine figures. 
So an assistant and I assembled what would become the key insights I'll share in a moment, the first being:
92% of businesses need help aligning their team with the company vision
Armed with this insight, I began a separate project to create the largest resource for "Team Alignment" strategies in the blogosphere, and countless hours spent digging through reputable sources showed: 
An overwhelming majority of businesses and/or their leadership are desperate for team members who are driven, and who take ownership of how their role affects the growth of their company, which many companies commonly define as being "in alignment with" the organization's goals and/or being "inspired to" reach them 

And millions of people in the workforce had grown despondent about the value they provide, consistently sharing with any researcher they could, that all they wanted was to feel a sense of connection to their company's purpose, and the real-world impact of their work 
As a result of digging up the insights I'll outline in this report, which I harvested from Conscious Copy's illuminating trove of data, I was forced to take a closer look at what was going on.
A Workforce Despondent
A Workforce Inspired 
The Harsh Reality Of Performance 
The science shows a 171% increase in results produced by teams who understood their purpose and saw how their work made an impact (measured by the hard metric of cash collected).

Image source: Conscious Copy & Co.
More Simply…
A sense of purpose one has in the work one does, and the impact that work has, increases their productivity and ability to produce results.

A majority of the workforce don't feel that purpose, which leads to underperformance and a poor sense of self-worth due to not feeling valued as a result.
Vivid Vision & The Misalignment Crisis: A Simple Explanation Pt. 2
On the opposite end of this were the businesses and their leaders who had desires of their own:
Businesses who sought help communicating their vision ultimately wanted their teams to: "take ownership and responsibility of their roles and the results they produce, and to collaborate, adapt, and prioritize communication." 

These companies believed this would happen as a result of the blanket term "Team Alignment."

Only 8-16% cited creating a sense of "purpose" as a reason to pursue professional help with their company vision
More simply…
1. A staggering 92 % of businesses who sought out help to communicate their company vision wanted to align their team with the vision, an idea commonly referred to as "Team Alignment"
2. But the consistent qualities most leaders and managers desired from their team and its members were consistent with the results produced by teams connected to purpose and impact.
3. And only 8-16% cited they were seeking to instill a sense of purpose.
Could it really be that simple?
Of course, there were variables of industry, company size, workforce demographics, etc.
But from what I was able to gather: 
Millions of people were gladly participating in survey after survey, saying very clearly: they're less driven to perform at their best without that purpose because they don't feel adequately valued, and what they want is to feel a sense of purpose at work. 

The teams that were driven by purpose and impact were aligned, productive, felt inspired by the work they did, and were excited to continue growing (and were not only proud of where they worked, but less than half even thought about quitting). 

Companies and leadership teams who were so motivated to clarify their organization's vision that they went as far as seeking professional services to do so were looking for the exact qualities of those teams driven by a sense of purpose—except basically none of the companies said they wanted to instill that sense of purpose, and all of them wanted "team alignment"
The Heartbreaking Misalignment Breakdown
Business: "Hi, we want alignment with our vision and goals, and an incredible sense of ownership and great output." 
Workforce: "Okay. We would like to feel more connected to the company's purpose." 
Business: "Interesting. Are you sure you don't mean you want to feel more aligned with the company vision?" 
Workforce: "Um, what? No, we said we want—"  
Business: "These people don't know what they want, let's go see if we can find people that want to be aligned with our vision and goals." *Walks away* 
Workforce: "I mean... They seem pretty similar... Right? We just wanna know our work matters..."
The Study: Why 400+ Businesses Outsourced Their Company's Future
The following information is based on the aforementioned four years worth of collected insight into the motivational drivers behind those who purchased Vivid Vision services from Conscious Copy & Co. For a complete breakdown of the methodology used to parse through and analyze our findings, there is a link to the full report at the conclusion of this document. To protect the privacy of our clients, we did not disclose any identifying information, nor did we share revenue numbers. Clients who've purchased Vivid Vision services from us were asked three questions during their Vision Expander Sessions (the first initial interview):
Purpose: What is the purpose for creating this?

Importance: What is the biggest difference this will make in your business?

Audience: Who is your intended audience?
First, we compiled client information into a spreadsheet and looked for commonalities in their qualitative answers related to Purpose, Importance, and Audience:

Then we turned the nine most consistent statements into our data points:
Clarity & Direction

Team Alignment

Motivation & Culture

Recruiting

Clients & Investors

Communicating the vision

Growth & Development

Marketing & PR

Motivation To Stay On Track
Key Insight #1: 92% Of Businesses Need Help Aligning Their Team With The Company Vision

We knew from sales conversations, and just general conversations we were having with other businesses, that this was the number one motivator when it came to clarifying their vision. 
But "team alignment" is a blanket term most leaders use to define many different desired benefits. 
When we further analyzed what people really meant, we gained much more clarity into the most common outcomes they hoped to achieve by aligning their team with the company's vision:
What Business Leaders Really Want When They Say "Team Alignment"
A Clear Picture Of The Future To Push Towards

To Inspire A Sense Of Excitement 

Optimized Decision Making By Empowering Team Autonomy (Free Up Leadership From Micromanagement)

Team Ownership & Responsibility Of Individual Roles & Results

Increased Engagement & Productivity

Improved Internal Communication

Give Team A Means To See Where They Fit Within "The Big Picture"

Clearly Defined Core Values For Everyone To Align With

Clearly Defined Roles

Team Connected To Mission & Purpose
Here's why this matters.
According to this widely cited global study:
Only 28% of employees feel fully connected to the company's purpose

Only 39% can see the value they create

Only 22% agree their job allows them to fully leverage their strengths
And a more recent study by McKinsey showed:
70% said their sense of purpose is defined by work

And only 15% of frontline managers and employees say they find purpose at work
Contrast these findings with the following:
And employees who feel a sense of purpose with work not only report better outcomes in their personal lives, but in their professional lives they report more overall: pride, satisfaction, commitment, engagement, achievement, connection, and excitement.
Which all sounds strikingly similar to the desired outcomes companies hope to achieve with team alignment, except only 8-16% of businesses reported they were looking to create a sense of purpose.
---
"The Intriguing World Of Boutique Vision Services" Part One: The Official Story
I'll admit, this was the copywriter in me speaking. But the intriguing world of boutique vision services is real. 
While I won't disclose internal Conscious Copy & Co. information about offer pricing, what I can say is that none of the done-for-you products and services offered were below $5K. And to drive home a completed Vivid Vision document, there was a facilitator who led the 2-4 hour interview process, a writer, an editor, a project manager to juggle several of these projects at a time, and a designer to construct the layout (which included three rounds of drafts).
So what were these businesses paying for? Here's the official origin story:
There's a saying that goes, "There are entrepreneurs that have been in business 10 years… and others that have repeated the same year 10 times."
That's exactly where CEO of 1-800-GOT-JUNK?, Brian Scuadamore, and President of Barter Business Exchange, Cameron Herold, found themselves years ago.
It was 1998, and Brian's revenue had stalled at $1M for eight years. Cameron's company was flat as well.
They didn't know what to do.
Until they learned about a technique that Olympic athletes use where they visualize themselves winning the gold medal ahead of time.
They thought, "If Olympic athletes do this, why don't we?"
Brian sat down and created what we now call a Vivid Vision® (which he called a Painted Picture): a document that paints a vivid picture of what your company looks like and feels like 3 years into the future as if it's already happened.
Cameron joined him as COO, and just a few years later, 1-800-GOT-JUNK turned into a $100M multinational company that appeared on Oprah, was featured in The Harvard Business Review, and was listed as the second best workplace culture in Canada. 
It transformed their lives so much that Cameron went on to write a book about it called, Vivid Vision: A Remarkable Tool For Aligning Your Business Around a Shared Vision of the Future.
---
Key Insight #2: 90% Of Businesses Need Help Clarifying The Overall Vision & Direction Of Their Company

Since clarifying the vision of a company and distilling it down to a seven-page document is one of the solutions Conscious Copy & Co.'s Vivid Vision product provides (which all businesses we studied had purchased), you might assume this statistic to be at 100%.
But of course, deeper insight reveals more.
A common struggle we see with businesses who attempt to create a Vivid Vision on their own is that the words on the page don't match what's in their head. In fact, many business leaders said they needed help "getting the vision out of their head" (in some form or another). They were clear on vision and direction, but could not clarify it into a well-communicated concept people could latch onto.
The most powerful detail about this insight though, is of course that a majority of the businesses actually needed us to help them define where they were headed, and how to translate that into a clear vision. 
Another finding of interest is the correlation between clarity, productivity, and movement. Many businesses who stated "clarity" as a motivational factor also mentioned some form of productivity within the same sentence (using words like plan, focus, execute, etc).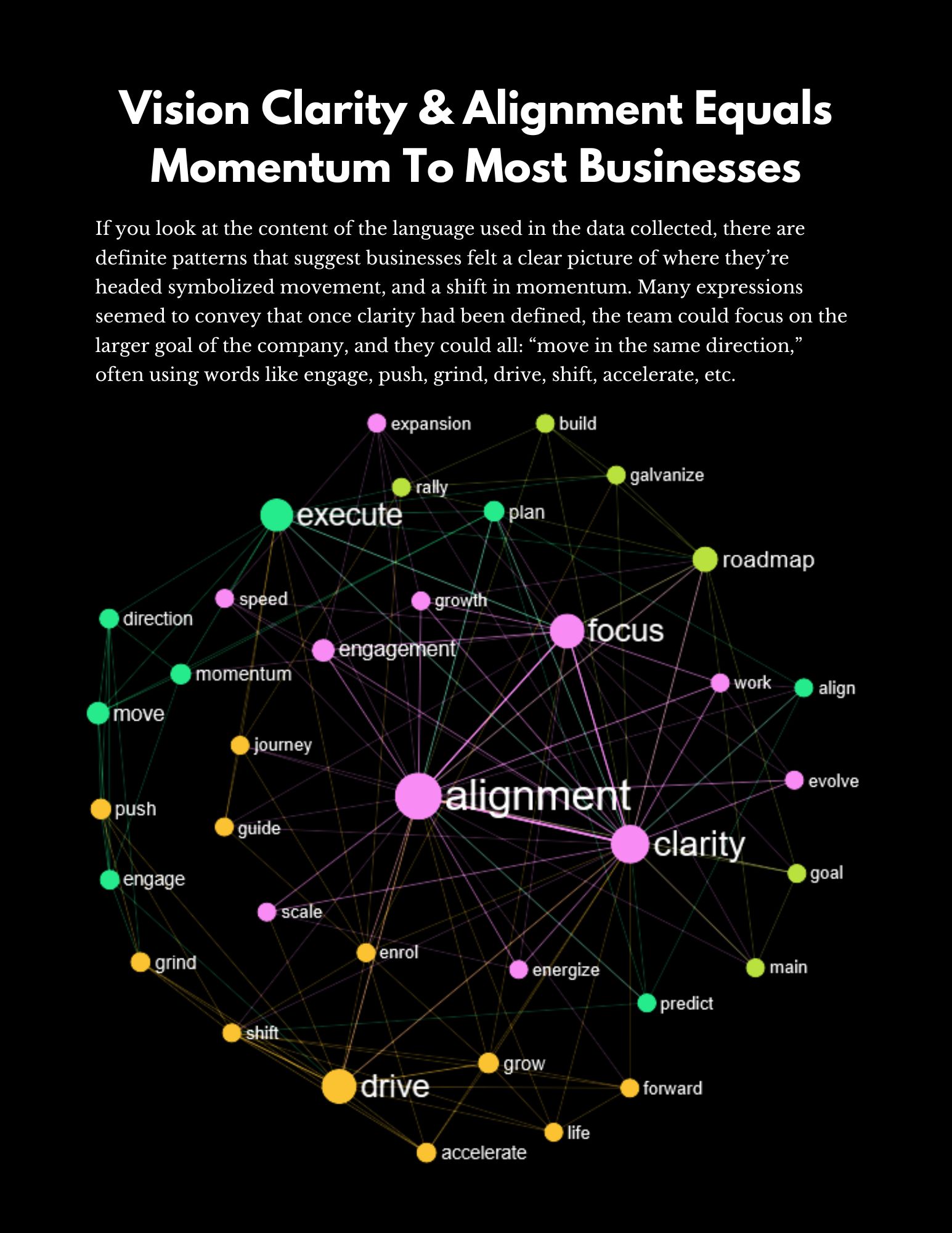 If you look at the content of the language used in the data collected, there are definite patterns that suggest businesses felt a clear picture of where they're headed symbolized movement, and a shift in momentum. Many expressions seemed to convey that once clarity had been defined, the team could focus on the larger goal of the company, and they could all: "move in the same direction," often using words like engage, push, grind, drive, shift, accelerate, etc.
Here's why this is important:
Clarifying the vision and direction of your company matters. 
Leaders who know where they're headed instill confidence in their teams, and it communicates that you are just as invested in the journey.
Plus, is a leader with no idea where they're supposed to lead people to actually a leader?
---
"The Intriguing World Of Boutique Vision Services" Part Two: The Artist & The CEO
"We walked out of that room a completely different company."
Few words have meant more to me in my career than these. 
As Conscious Copy took a hard pivot away from agency copywriting services and began to focus almost exclusively on Vivid Vision services, I found myself writing these documents more and more.
And because the universe gifted me with the artist's curse, I approached each one as a work of art, straying from the conventions of simply repeating back what a business owner shared in their interview. 
For example: the first one I did was for a community bank in Minnesota. 
I used my knowledge of speechwriting to capture the frustration of smaller financial institutions who provide so much for their locales, only to have regulations meant for the big boys, the international banks (aka the ones that break the law), be unfairly placed on their shoulders:
Shifts in the banking industry have broken the backbones of our local economies.

Every day, small business owners bear the cost of mergers and acquisitions that have taken the American dream and tossed it to someone else across the globe.
When I look around at the

growth we've helped to stimulate

in our communities, the

financial morale boost

we've given to our neighbors, and the

jobs we've supported

in creating, I am humbled beyond words. 
Knowing that our reinvention of what a small, community bank can accomplish if they put forth the effort to serve the best interests of their customers fills me with pride and pays emotional dividends every single day. 
There's a lot more work we can do

: a lot more jobs we can establish for the next generation, and a lot more opportunities we can provide for the businesses who will rebuild the backbones of our cities. 
We—as a team—get to be a part of that, because our heart is in the right place. 
Look around at what we've accomplished, and celebrate that win, but understand that the next game is coming. 
In many ways, the odds are stacked against us.

Multinational banks have destroyed economies around the world, and regulations put into place because of their mistakes get unfairly applied to what we do. 
But despite the uphill battle we climb each day, I want my team members, partners, customers, and family to remember that at the end of the day, the lives we can help change are at stake. 
Like the 82-year-old farmer who's grown weary from a life of physical exertion and who just wants to pass down his legacy without worry; the business owner who walked out of a big bank after her lender made a sly comment about her appearance; the construction worker who was made to feel small by a hot shot in a suit who majored in economics but couldn't screw in a lightbulb to save his life; and the entrepreneur who sees a loan as the only way to grow, when all they need is a shift in strategy...
These people and their families are who we get to serve. That's why we're here.    
Let's get to work.
After he delivered that speech by way of Vivid Vision, the CEO of that bank said those words I'd never forget: We walked out of that room to a different company.
It was then that I knew I'd mastered the ability to move people through words and to give these businesses what they wanted; a spark that lights the flames of desire and pursuit.
Not everyone, however, was as appreciative.
---
Key Insight #3: 80% Of Businesses Need Help Communicating Their Company Vision

Many business leaders report being able to see the vision of their company clearly in their head, but have trouble putting it into words. 
In fact, some variation of the phrase "get it out of my head" was used by many of the companies who worked with us. 
And almost all businesses who stated they needed help communicating their company vision said they wanted to use their Vivid Vision to "build excitement," "inspire," "make sure people feel connected to," or some form of emotional incitement.
It makes sense.
The Vivid Vision process we've developed over the last four years was designed to give owners, CEOs, or other leadership teams space to "dump it all out" of their heads, guided by a professional, then assembled into crystal clear words by professional writers who specialize in capturing emotion.
This is super helpful, as the science shows the most important predictor of a team's success is its communication patterns, and other studies reveal:
Which makes Key Insight #3 an overall positive finding: it's good to know that 80% of businesses who need help communicating their vision are taking action to do so.
---
"The Intriguing World Of Boutique Vision Services" Part Three: The Paradox Of Purpose
I continued on with my Vivid Vision writing and grew ever more audacious with each project. 
There was former NFL linebacker Larry English, whose story I told through a day-in-the-life narrative, as he reflected back on a conversation he had with his aging mother under the moonlight in Hawaii.
Or there was 15Five, the HR software company. A goal of theirs was to go public and ring the bell at the New York Stock Exchange. So I wrote their Vivid Vision as if it were a press release for the ceremony:
FOR IMMEDIATE RELEASE: NEW YORK, NY, Dec. 31st, 2024 -- 15Five, Inc. (NASDAQ: FTFV), the leading human-centered performance management platform, announced that leadership will ring in the new year by leading the closing bell ceremony at the Nasdaq Stock Market on Friday, January 3, 2025 to celebrate the company listing its common shares on the Nasdaq Capital Market, and released this statement from Founder and CEO, David Hassel:
At 23, I left my corporate job to become an entrepreneur, believing it was the only way to find fulfillment, and a burning question slowly ate away at my heart: Where does that leave 90% of humanity? Being a founder isn't for everyone, but there are plenty of passionate, hardworking people who deserve for their work to be inspiring, and to co-own their company's success. So, in 2011, I founded 15Five, not around a market need, but around a desire to see change in the world.
13 years later, we're the most recognized name in performance management, with over 1.5 million users working alongside us to create a world where work is an opportunity for fulfillment rather than an obligation.
It's easy for the satisfaction that high-performing teams feel when they hit a goal to be overridden by despondence; to see the symbol of their efforts scroll across that ticker, only to glance at companies with higher valuations and feel the hunger within them begin to rise again.
So, to my team: take a moment to acknowledge this accomplishment. You've unlocked the potential inside millions of people and proven that individual prosperity leads to business growth. Our goal to change how the global workforce views the link between positive human transformation and marketplace value will not come without challenges.
With every move, those interested in maintaining the status quo will gnaw at our heels.
The infinite game of creating a higher quality of life for the human beings our work touches won't be finished in our lifetime, but that's what we signed up for. If you want to be a co-creator of real transformation for yourself and the world, know this: it can't be done alone. We need your help to dismantle the old conventions of work and empower the next generation of changemakers. Let's be better humans, together.
But as I increased my workload I began to notice a peculiar trend. Given the insight that 92% of companies state they desire team alignment, when in reality they want the benefits of a team driven by purpose, considering only 8-16% stated purpose as a goal…
I  knew how important purpose actually was when creating these Vivid Vision documents. 
So I always went out of my way to at least try and communicate some kind of purpose to the team that would be on the receiving end. There's a skill to emotional writing, and I've built that skill up for six years, maybe more.
I know what I'm doing. 
However, many businesses began chipping away at the emotional connection I built into the prose on receiving our drafts. In one instance a business owner cut about 75% of my writing. Then he shared it with his team, who just stared at him. He should have let the professionals do their job.
There are several reasons businesses do this, chief among them is that many people see what I write and believe they can do a better job. 
(Most can't.)
But there's also an underlying motive I've picked up on after several years: many leaders don't actually want to inspire their team the way their team wants to be inspired.
---
Key Insight #4: 44% Of Business Want To Attract & Retain Better Talent, And 40% Need Help Motivating Their Current Team Or Strengthening Their Culture

There's a lot of speculation about attracting and retaining talent right now. In our Team Alignment Hub we outline the evolution of talent desires over the last few years:
And while we don't know what the future has in store, what we do know is that:
The Difference Between Motivating A Team, Strengthening Its Culture, & Aligning The Team
With 40% of businesses needing help to motivate their teams and strengthen their culture, how does that differ from the 92% looking to align their team?
The truth is, there's a lot of crossover. 
But unless the business stated very clearly, "We want to motivate our team and improve the culture," there were key phrases they used to express their intent.
For example, let's take this entry from a distinguished marketing firm:
"We want to give our team clarity on where they stand/fit within the company [vision]... To keep them motivated and excited for what we do, and how we impact people every day."
A statement focused on team alignment would differ, in that it would likely say some form of, "We want to give our team a clear picture of where we're headed so they can focus on the big picture."
The statement from the client above contains references to team belonging, and a day-to-day sense of motivation that permeates through culture.
Other slightly ambiguous terms that didn't outright mention culture included:
Help team understand how their contribution matters, how their role plays into the big vision

I want to make this one of the happiest places to work

Empower team to perform well—when they're clear of the vision, that will transfer over to how they engage with our clients

Anchor into our core values, so we can get better everyday

Make this an exciting place to work

Inspire the team to bring their best to work  
---
Further Questions
The romantic relationship I was in at the time of this writing eventually ended. Right as I was narrowing in on the key findings I've just shared with you. And the reason bore a striking resemblance to the material: it ended because the other person wouldn't commit. Yet she wanted me to show up for her in ways only a committed partner would.
She wanted the emotional benefit without the emotional commitment.
Many of these businesses approach the communication of their vision the same way, IMO. They want an aligned and inspired team but aren't willing to give them the purpose needed to incite such passion.
They simply want to say, "This is where we're going, just FYI."
You want an aligned team to be inspired about where you're going, and to feel a sense of ownership?
Why should they?
The research is clear: companies who prioritize purpose do so to great advantage, enjoying the desired benefits of organizations chasing down "alignment," even as employees and job seekers continue to say explicitly that they are looking for purpose.
Is this disconnect simply a linguistic misunderstanding? 
If leadership knew that what they were really looking for was a team motivated by purpose, and so they altered their approach, could this imbalance be fixed? 
Does leadership know that communicating purpose is rather simple? 
And that it doesn't have to alter the trajectory towards the vision they hope to align everyone with?
Or do we continue down the path of misalignment, and let the market set us straight?
Conclusion & Additional Insights
I've spent a considerable amount of time letting my biases get the best of me. So, I'd like to close by commending the businesses who were so driven to motivate their employees they somehow ended up in a Google Doc with me. While I didn't interact with all 400+ of these organizations, I spent hours' worth of Zoom calls with dozens of them. Big and small, straightlaced and conservative, kooky and wild—I always learned something new.
And I do believe their hearts were always in the right place. 
If you'd like additional insights (and there are plenty), you can check out the Team Alignment hub at Conscious Copy & Co.'s website here.
Should you wish to continue the conversation, you can share your thoughts with me over at MDG Partners & Insights. I've put together a collection of marketing strategies for any business owner who stuck with me to the very end. You can grab those here, no opt-in required: https://www.michaeldelaguerra.com/insights 
Lastly, the findings outlined here give great insight into the needs of businesses and their leaders in clarifying their company vision, and the value placed on improving organizational alignment, communication, and clarity. I would like to thank Conscious Copy & Co., and the 400+ businesses who've allowed us to help them through such a personal process, and to be co-creators in their future success. I'd also like to acknowledge Conscious Copy's long-standing partner in Vivid Vision, Cameron Herold, author of Vivid Vision: A Remarkable Tool for Aligning Your Business Around a Shared Vision of the Future, for his continued dedication to helping leadership teams thrive. Please see our full methods report if you're interested in learning more about how we analyzed the data: https://cdn.spark.app/media/michaellopez/pdf/methods_report.pdf